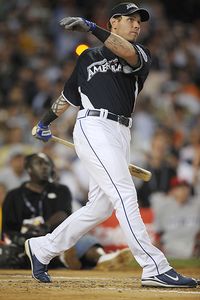 BRONX, NEW YORK
By Chris Lima

Texas Rangers outfielder Josh Hamilton put on a home run display worthy enough to make the Babe smile. Hamilton crushed 28 home runs in the first round of the derby, seemingly playing his own game of whiffle ball in the House That Ruth Built.

Pitching to Hamilton was 71 year young Claybon Counsil, his personal batting practice pitcher from North Carolina. Counsil was flat out amazing, giving Hamilton rest when he needed it by throwing a couple balls out of the strike zone.

Lost in the hub bub of Hamilton's tape measure shots, was the joy and love of the game on display, courtesy of Ranger's outfielder Milton Bradley.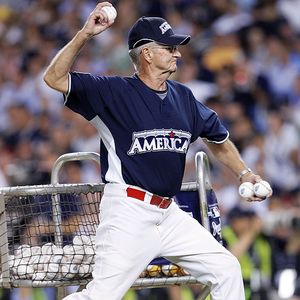 Bradley was a one man show, toweling off Hamilton, taking pictures during the at bat, and cracking a joke or two during his on the field interview.

David Ortiz left (in jest) during Hamilton's string of thirteen consecutive home runs on thirteen consecutive pitches. He left, of course, to a chorus of boos from the New York fans.