BRONX, NEW YORK
by Chris Lima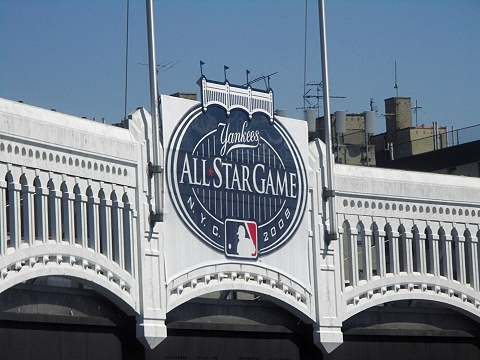 It's about time; Yankee cheap seats have finally out-priced those dainty, waitress serving, foam padded, leg roomed, great view seats behind home plate. And what event could cause the third sign of the Apocalypse to unfold?

The 2008 Home Run Derby, of course.

Tonight's 8:00pm event at the House that Ruth Built will consist of some of the Major's biggest hackers and power punchers, each trying to win the coveted title of Home Run Derby Champ.

The National League trots out some big sticks. However, two of their representatives play second base, a position not normally known for power. Chase Utley (Phillies; 25 HR) and Dan Ugla (Marlins; 23 HR) will join Lance Berkman (Astros; 22 HR) and Ryan Braun (Brewers; 23 HR) as the National League representatives.


The American League lineup consists of feel good stories and a handful of female fan dreamboats. Josh Hamilton continues to add to his fairy tale career, adding the Home Run Derby and an All-Star Game appearance to this roller coaster of a ride he's been on. Hamilton (Rangers; 21) will join Cleveland heartthrob Grady Sizemore (Indians; 23), Rookie sensation Evan Longoria (Rays; 16), and Justin Morneau (Twins; 14) as the AL looks to topple the NL in another Home Run Derby Classic.