CC Sabathia, LHP (0-0, -.--)
Jeremy Guthrie, RHP (0-0, -.--)


Scouting Report:
Yankees: The Yankees prioritized starting pitching immediately after missing the playoffs for the first time since 1993 and set their sights on Sabathia, who inked a seven-year, $161 million deal during the Winter Meetings.

In 35 combined starts with the Indians and Brewers, Sabathia led the Majors in innings pitched (253), complete games (10) and shutouts (five), ranking second in strikeouts (251) and fourth in ERA. Despite the midseason trade to Milwaukee, Sabathia finished fifth in the National League Cy Young Award voting and sixth in NL MVP voting. With a 117-73 career record, Sabathia's .616 winning percentage is the 12th highest among left-handers with as many or more decisions (190) since 1900.

This will be Sabathia's sixth career Opening Day start, and Sabathia leads all active Major Leaguers under the age of 29 in career wins (117), strikeouts (1,393) and innings pitched (1,659.1).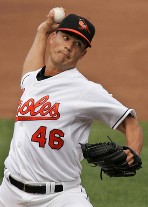 Orioles: The Orioles may have waited until an appropriate moment to name Jeremy Guthrie their Opening Day starter, but it's a role that virtually everybody in the organization knew he would fill. Guthrie was far and away Baltimore's most effective starting pitcher in 2008 and has been outstanding since arriving as a waiver claim in '07. Back then, he was a floundering former prospect with Cleveland, but he's managed to fulfill his potential in Baltimore.

Guthrie will become one of just four starters in the last 20 years -- along with Rick Sutcliffe, Rodrigo Lopez and Mike Mussina -- to start on Opening Day in consecutive years for the Orioles. Guthrie, a former first-round draftee, is the only member of last year's rotation to remain in the same role. The Orioles will keep him on his turn as often as possible, meaning that he'll likely throw again on April 11.

Guthrie was a true standout last season, finishing seventh in the American League in opponents' batting average (.242), 14th in ERA (3.63) and top 25 in both starts (30) and innings (190 2/3). Guthrie made 19 quality starts last season, and 10 of them followed a Baltimore loss. At one point, in fact, he threw six straight quality starts.